Masterpact MTZ
High current air circuit breakers from 630 to 6300 A embedding advanced digital technologies
Future Ready Masterpact MTZ is a comprehensive range of air circuit breakers designed to protect electrical systems from damage caused by overloads, short circuits and equipment ground faults. Masterpact MTZ embeds advanced digital technologies and Micrologic X control units helping to contribute to safety and energy efficiency.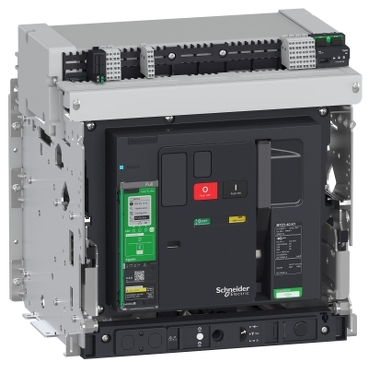 Features

Increase power uptime and energy efficiency with the new Masterpact™ MTZ air circuit breaker. Building on the legendary performance, safety, and reliability of the existing Masterpact range, the Masterpact MTZ circuit breaker is future-ready.
Masterpact MTZ circuit breaker is taking electrical distribution into the "Internet of Things" era. It incorporates communication functionality as well as Class 1 accuracy power/energy measurement to ensure smart operation. Masterpact MTZ connects your electrical switchboard to any building and energy management system. On top of that, you can now use your smart phone as the main HMI to monitor and control Masterpact MTZ, giving you maximum convenience and ease of management.

Schneider Electric has been the worldwide benchmark for high current Air Circuit Breakers (ACB) since 1987; first with Masterpact M, followed by Masterpact NT/NW. Masterpact MTZ circuit breakers incorporate innovative features, along with their legendary breaking principle and a modular, compact design. Schneider Electric is now building on this heritage with Masterpact MTZ,

the connected breaker

. As well as delivering proven performance, safety, and reliability, Masterpact MTZ circuit-breaker incorporates the latest digital technologies and is destined to become a key component of the Schneider Electric Smart Panels.

Masterpact MTZ circuit breakers are available in 3 different models: Masterpact MTZ1 from 630 to 1600 A, Masterpact MTZ2 from 800 to 4000 A, Masterpact MTZ3 from 4000 to 6300 A
3-pole and 4-pole versions
Breaking performance: 42 to 150 kArms (Icu at 415 VAC)
4 types of Micrologic control units, customisable with digital modules for advanced measurement, energy management and network analysis functions
Wide range of common auxiliaries and accessories - interchangeable on site
Compliant with international standards IEC 60947-1 and 2

Benefits

Visit the Masterpact MTZ product launch area

Masterpact MTZ circuit breakers incorporate the latest digital technologies:

Connectivity Ready
Precision Ready
Upgrade Ready
Environment Ready
Installation Ready
Integration Ready
Sustainability Ready

Applications

Designed for the protection, measurement and communication of LV electrical networks, specifically motor and generator protection.
Ensured reliability thanks to improved mechanical and electrical performance, even for heavy-duty applications and harsh environments.