CANopen
Network for machines and installations
A standard-compliant multi-master bus which ensures reliable deterministic access to real-time data in control system devices.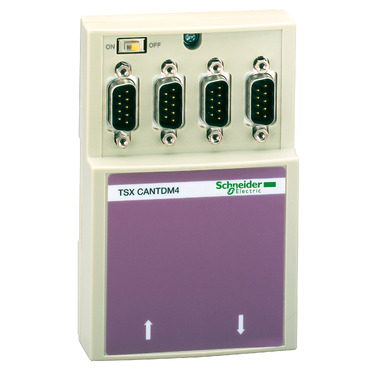 Features

CANopen™ Fieldbus conforms to the ISO 11898 international standard, promoted by the CAN in Automation association, which consists of users and manufacturers and offers an excellent assurance of open access and interoperability due to its standardised devices and communication profiles.
Schneider Electric has chosen CANopen to equip machines and installations, because of its functional capabilities and of its advantages for automation.



Benefits

Performance and reliability
The CANopen bus is a vendor-independent, multi-master bus which ensures reliable deterministic access to real-time data in control system devices. The CSMA/CA protocol is based on broadcast exchanges, sent cyclically or on an event, which ensures optimum use of the passband. A message handling channel can also be used to define slave parameters. The bus uses a double-shielded twisted pair, on which 127 devices maximum are connected by simple tap junctions. The variable data rate between 10 Kbps and 1 Mbps depends on the length of the bus (between 30 and 5000 m).

Performances and reliability
CANopen is the best choice for machines and installations. It combines technical performances and reliability.
CANopen is a real independant fieldbus, providing the best in terms of openess and interoperability of systems and products.

CANopen IP20 cables and accessories are available for flexible drop cable architectures, including a 4-port tap required for these layouts. The UL-rated cables are available in multiple lengths and three connector options to provide a variety of interface connections.

A complete range for machine automation allows the user to select equipment depending on the automation needs:

Controller: Twido, TSX Micro, Modicon Premium, Modicon M340, Altivar 71-IMC, Modicon 238/258, LMC058, Magelis XBT, LMC300/400/600, LMC101/201
I/O: Modicon OTB, STB, TM5, TM7
Motor control: TeSys U, TeSys T
Drives: Altivar 312, 32, 61, 71 family
Motion Lexium 05, Lexium 23, Lexium 32, TwinLine family
Sensor: Osicoder
Safety: XPS-MC

Range available on IP20 and IP67

Applications

Compact machines & installations.
Distributed machines & installations.